Life for Liv Bird Race
28th October 2019 | Finley Hutchinson
As some of you may have already seen, on the 6th October I took part in BIRD for LIV – a nationwide sponsored big day (well, 6 hours) to raise money for 'Live For Liv'. Liv is the wife of well-known British birder Gary Woodburn. She has Ehler's Danlos Syndrome and urgently needed life-saving surgery in Spain or USA to relieve pressure on her neck, so the aim was to raise £100,000 to pay for a specialist air ambulance flight to Barcelona and then the treatment once there. BIRD for LIV was one of several fundraisers, including a Just Giving page and Gary shaving his renowned hair! I found out about the former event through Twitter, where it was widely circulated, gaining support and donations from RareBirdAlert and Birdguides. I planned an early start on the Sunday, taking in Dinton and Moor Green within my 6-hour time period, and set about gaining sponsors.
When the day came, I woke up at 6:30am and arrived at Dinton at 7:30, meeting Fraser, John Mac and Jack for the first part of my challenge. First, we headed up to Lea Farm, where we spent about one and a half hours, reaching an impressive 53 species in a single hide! Among the highlights at this stage were GREY WAGTAIL (great find on the opposite bank by John Mac), 2 or 3 STONECHATS, one of which came right up to the hide, a SPARROWHAWK that came tearing through in front of the hide and a WHEATEAR on the landfill found by Fraser.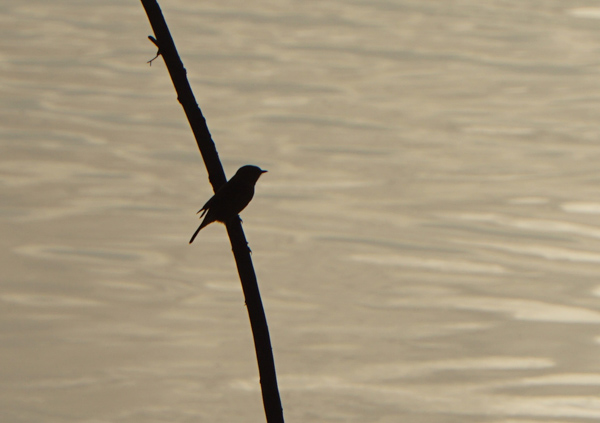 Stonechat
When we did leave Lea Farm behind, we headed round to BSL, picking up GREEN and GS WOODPECKERS, BUZZARD, CHAFFINCH, DUNNOCK and SONG THRUSH. Then it was off to the Balancing Pool for LITTLE GREBE, plus ROOK, RAVEN and another couple of grey wagtails on the landfill.
Unfortunately, having spent a bit over 2 hours at the Park, I then had to leave to catch a train to Moor Green, but I added CHIFFCHAFF and HOUSE SPARROW on my way out, bringing the Dinton total to 65. I didn't let my journey stop me either, adding COAL TIT, FERAL PIGEON and HERRING GULL along the way, before meeting Magnus at Moor Green for the last hour and a half of my 6 hours. First stop was at Colebrook N to look for the BNG, but it was the classic 'you should've been here half an hour ago', and the only small grebe present was later identified from photos as little. Despite dipping this one, there were still plenty of birds to be found, and we moved across the path to the East Fen picking up the long-staying BLACK-WINGED STILT along with the many photographers, plus GREEN SAND and DUNLIN.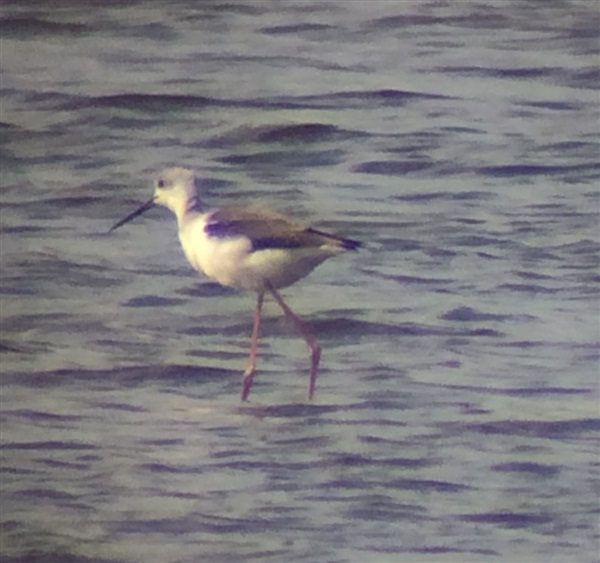 Black-winged Stilt
Then we hurried off around Grove Lake, getting POCHARD, and with time running out raced back to the New Workings, finishing the day with a flock of LINNETS bang on the end time!
In total during my 6 hours I reached 73 species – 65 at Dinton, 3 in transit and 5 at Moor Green, despite missing collared dove, mandarin duck, house martin and the elusive grebe. See below for the full list. Thanks so much to the four who joined me throughout the day, especially Fraser, who pointed out birds I certainly would've missed otherwise, hugely increasing my total.
But it wasn't just about the birds, it was about the sponsors, and with lots of generous donations I reached a grand total of £488.27, which I later discovered was the highest amount anyone raised! Huge thanks to everyone who helped me reach this, and a special mention to Gavin Hutchinson who donated £100 because he "likes round numbers"!
As for Liv, the purpose of the whole event, surgery on 10th was a success and in the last couple of weeks she sat up without a neck brace for the first time in years, managed to walk with support, and even stood up for a few seconds unaided! She and Gary were discharged on 26th and, though there is still a long way to go, things are looking really good right now. I wish you all the best for recovery!
DAY LIST
Redwing, Long-tailed Tit, Goldcrest (heard), Moorhen, Jay, Mallard, Jackdaw, Ring-necked Parakeet, Gadwall, Coot, Snipe, Red Kite, Lapwing, Black-headed Gull, Cetti's Warbler (heard), Blue Tit, Great Tit, Teal, Tufted Duck, Stock Dove, Canada Goose, Carrion Crow, Lesser Black-backed Gull, Mute Swan, Blackcap, Blackbird, Meadow Pipit, Robin, Greylag Goose, Great-crested Grebe, Magpie, Pheasant, Stonechat, Kingfisher, Grey Heron, Wigeon, Shoveler, Cormorant, Pied Wagtail, Grey Wagtail, Reed Bunting, Nuthatch, Woodpigeon, Skylark, Sparrowhawk, Swallow, Wren (heard), Wheatear, Starling, Mistle Thrush, Egyptian Goose, Little Egret, Goldfinch, Great Spotted Woodpecker, Green Woodpecker (heard), Buzzard, Chaffinch, Song Thrush, Dunnock, Rook, Raven, Little Grebe, Chiffchaff, House Sparrow, Coal Tit, Feral Pigeon, Herring Gull, Dunlin, Black-winged Stilt, Green Sandpiper, Pochard, Linnet.